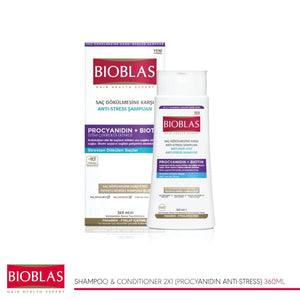 Care for Hair Weakened by Stress
Hair is affected by Stress and begins to fall as a result. Stress consumes the minerals and vitamins needed for the body to maintain balanced functions and healthy hair growth.
Enriched with:
Procyanidin Grape seed Extract that strongly bind to keratin in hair and inhibit the breakdown of hair caused by Oxidative damage.
Biotin is one of the most important vitamins for healthy hair. It supports repairing of the hair and helps strengthen hair strands.
Dermatologically tested –Paraben Free.
العناية بالشعر الذي أضعفه الإجهاد.
غني بـ:
خلاصة بذور العنب التي ترتبط بشدة بالكيراتين في الشعر وتمنع تكسر الشعر الناتج عن أضرار الأكسدة.
البيوتين وهو من أهم الفيتامينات لصحة الشعر. يدعم إصلاح الشعر ويساعد على تقوية خيوط الشعر.